Case study: finding the best free shipping strategy to avoid profit cuts
Summary »
Free shipping is a must for most ecommerce businesses. Offering free shipping, however, can break the bank for many, especially those that are just starting out. In this case study, we take a look at an experiment we did for our long-term client, a home and living brand that I'll call Brand X, over two consecutive Black Friday promotions. Spoiler alert: we found a winning free shipping strategy that just might work for your business too.
I'll cut right to the chase — free shipping is so overplayed in digital marketing that we're more confused than ever as to how effective it is. Think of your top 3 favorite online stores and see which don't offer free shipping for all orders or qualifying ones. With certainty, I can tell you that they all do. We're so used to the concept of free shipping that it almost feels like a mandatory requirement for all ecommerce products.
I began thinking about how common free shipping is these days and what were people's reactions when this concept was first introduced. My mind was in a "thinking loop"… just like that TikTok trend.
Is free shipping really that beneficial? What effect does it have on revenue, retention, order value, and conversion rate? Most importantly, which free shipping strategy is a win–win situation for retailers and buyers. I compiled data and in this case study, I want to share what the winning strategy is for most Zuper clients.
If it's free — I want it
If we look at statistics, there's always an impressive number of people who abandon their shopping carts because shipping is too expensive. We've all heard the old shipping analogy of how buying a €10 shampoo is fine, but buying a €7 shampoo and paying €3 for shipping is ridiculous. This is because as customers, we're constantly looking for product value and spending justification. Let me give you an example using the same shampoo analogy with this Drake meme.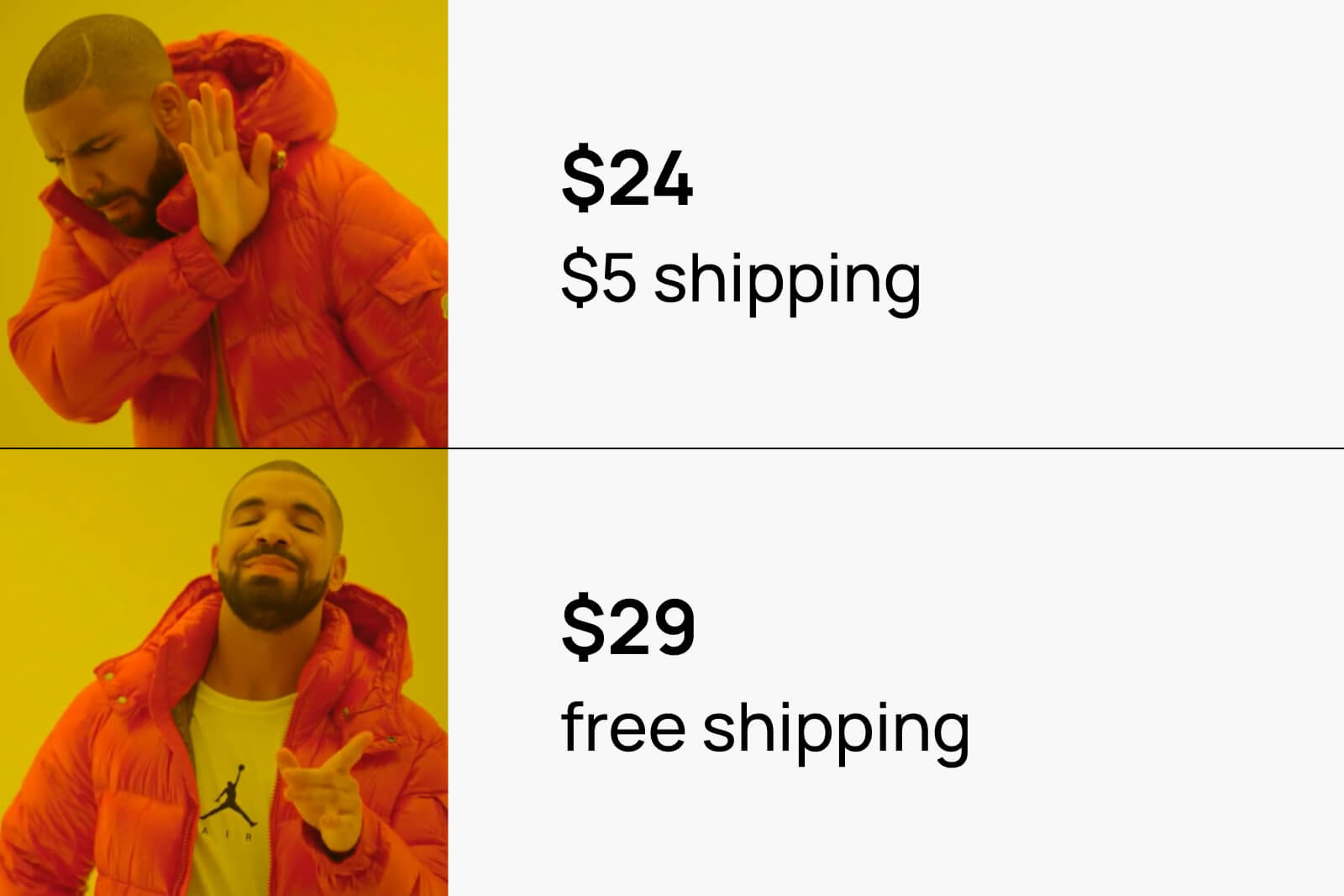 When a product costs €7 and you have to pay €3 for shipping, your brain is automatically doing a cost vs value analysis. It usually goes like this — €3 for shipping is basically half of the product price. It's the most bang for my buck if I don't order the product now, but wait until I can get it at the store in person. Tell me this hasn't been you at least once.
However, give me free shipping and I'll buy that €10 shampoo in a second.
Free shipping influences buying
We can't ignore the psychology behind consumer behavior and we also can't avoid it when it comes to our own shopping habits. We all do this. So before I dive into which shipping strategy is a winner for most of our clients, let's look at how free shipping influences online buying.
The word "free" has an amazing effect on purchasing behavior. As a consumer yourself, you are aware that getting something for free can influence you to act. In fact: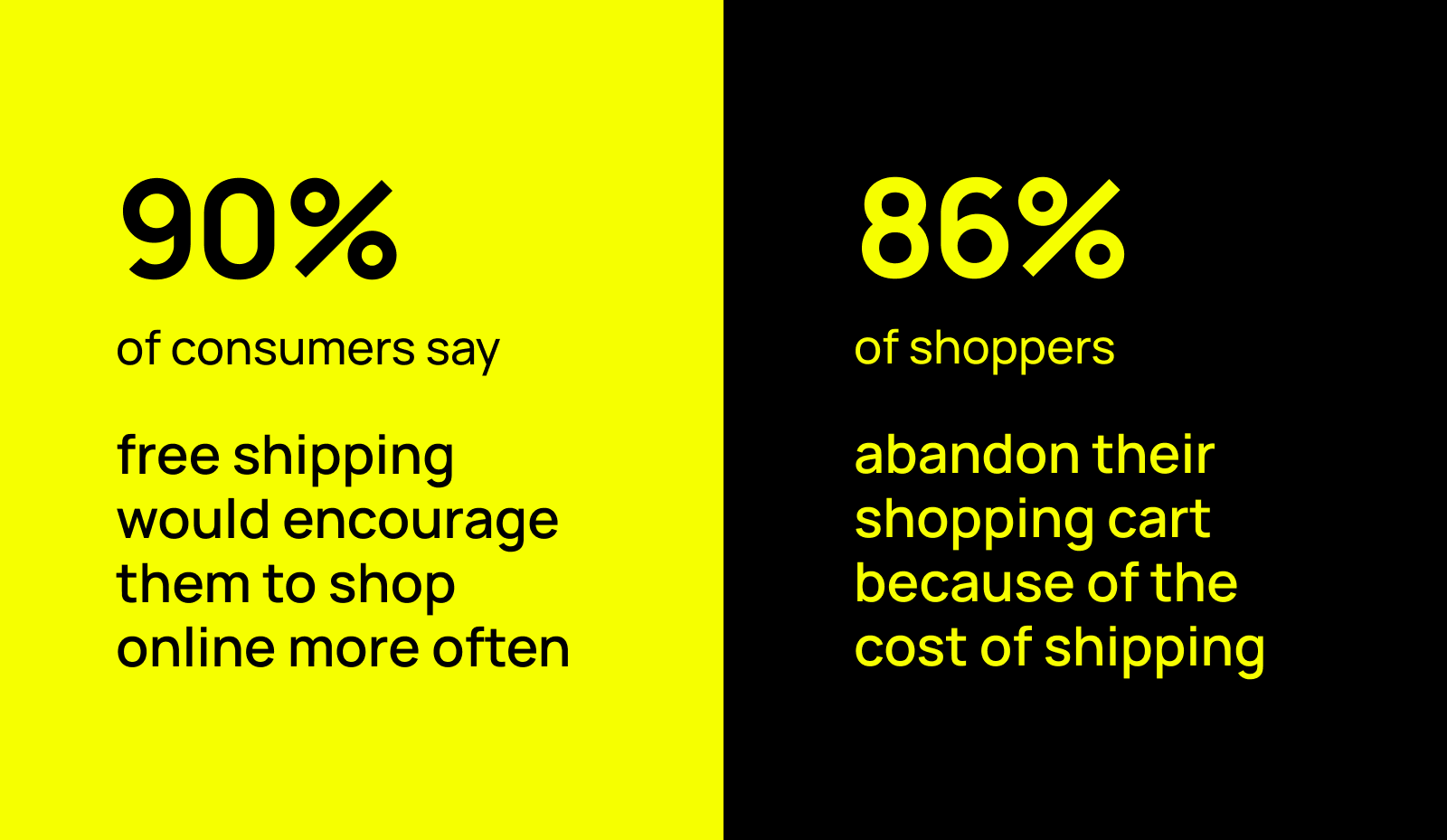 These are some heavy truths and the reasons why so many ecommerce businesses are afraid not to offer free shipping. Your hands are tied and you absolutely must comply with the rules to be relevant and the desired destination for online shoppers. Many believe that free shipping is the expectation and standard. Anything less is a disservice to your customers. But maybe there's a way out…just maybe. Stay with me here.
With the high costs of shipping, many businesses are forced to question their ability to offer free shipping. While there is no one-size-fits-all approach that works in all scenarios, businesses can strategically find the right balance of driving more conversions and not breaking the bank.
We've tested multiple shipping policies with our clients and in previous work experiences before. The goal is to offer free shipping, but not take away a big chunk of profit. I'm here to tell you what strategy works best for our clients.
If it works for them… it can work for you
Alright, I should start by saying that I don't question the overall effectiveness of free shipping but rather which of its variations is the best for business goals. Free shipping is a great selling point, it can contribute to higher conversion rates, and generally, customers tend to shop at online stores that offer some form of free shipping. What I have always been curious about is which form of free shipping works best. Plain and simple.
At Zuper, one of our core values is to test ideas, assumptions, and gut-feelings to avoid possible subjectivity where objectivity is necessary. Although free shipping as a concept works and this has been proven in many other case studies and blog posts, what we're after here is finding the best free shipping concept/model for our customers and their business needs. Most brands will use one of the most common free shipping strategies:
Free shipping on all orders
Free shipping as a promotion
Free shipping on selected items
Free shipping with selected shipping methods (DPD, Omniva being the top choices)
And free shipping on specific order total aka, a free shipping threshold
We've seen and used all of these before as standalone strategies or in combination with each other and we've been a long-time partner for multiple brands. When comparing data, it is best to test it over a period of time. Luckily, we were able to conduct an experiment with one of our long-term clients, a home and living brand that I'll call Brand X from now on, to objectively conclude which shipping strategy works best for them.
Strategy 2019 → We ran a Black Friday weekend promotion with 20% off everything + free shipping on all orders for Brand X.
Strategy 2020 → We changed up the Black Friday promotion to 30% off everything and free shipping on all orders over €70 for Brand X.
Both promotions ran for 4 days and were identical in all other aspects. This was our setup.
Here's what happened and what we concluded
When we analyze a promotion, we look at a couple of stats to evaluate the effectiveness of the campaign. Usually, it's the number of total sales, profit, average order value, and returning customer rate. Keep these in mind when we compare the two strategies.
Let's look at our strategies in numbers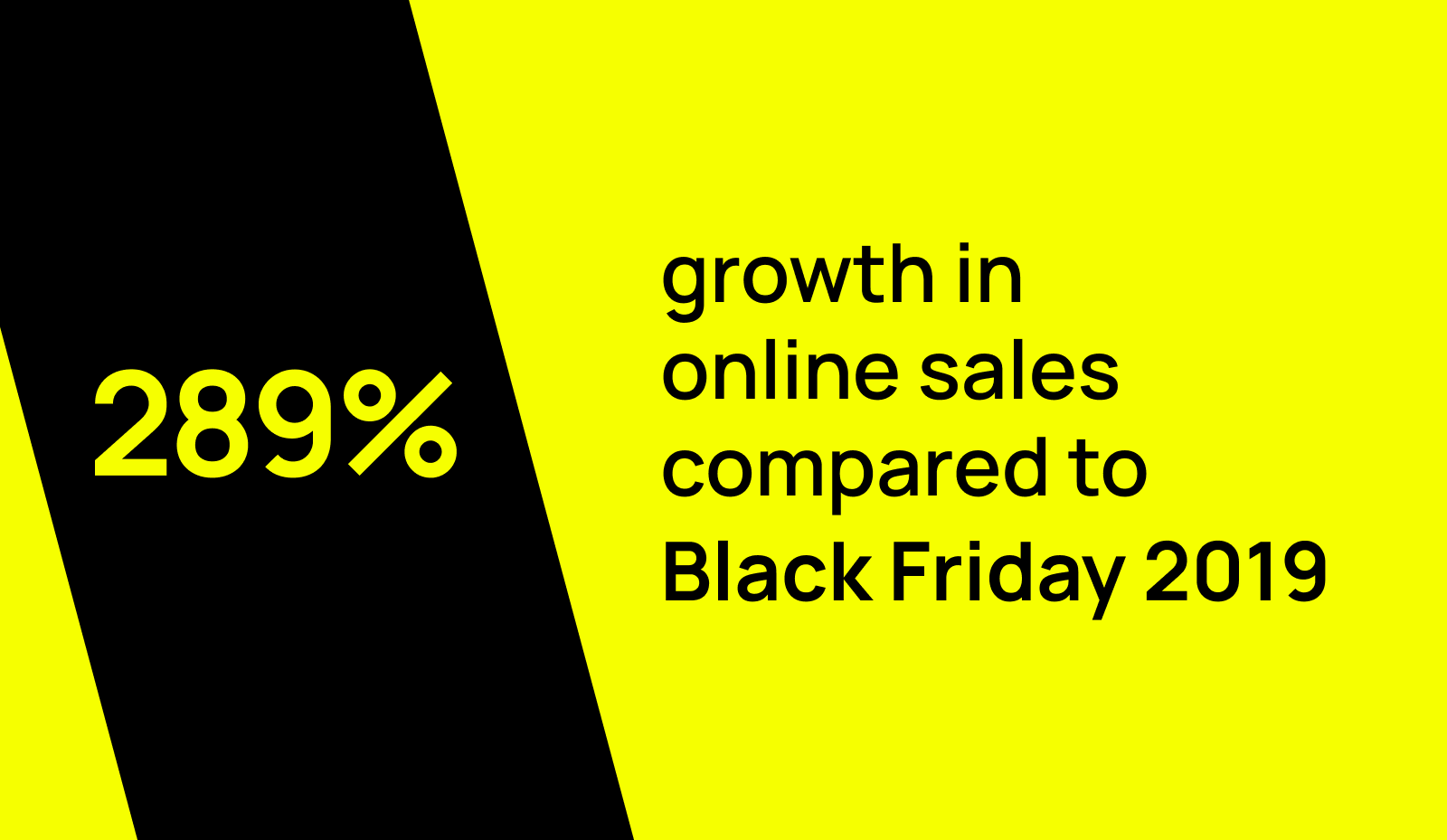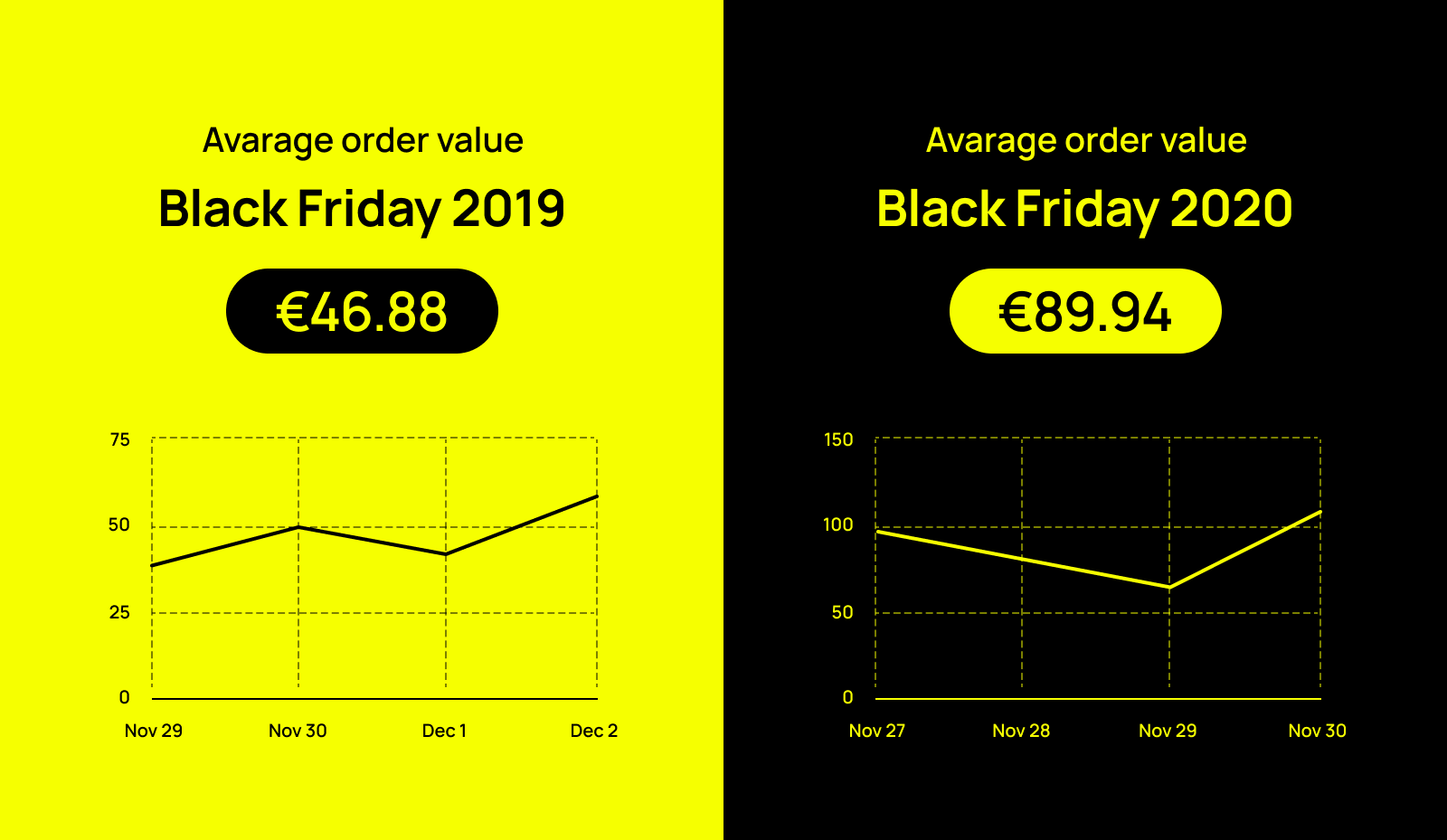 One strategy is outperforming the other. In this case, running a promotion with 30% off site-wide and free shipping on all orders over €70 is a winner. A major takeaway here is what a difference shipping threshold makes in average order value and ultimately revenue.
Although we can't completely ignore a normal, expected year-to-year growth and brand awareness as contributing factors when looking at 2020s growing numbers, they aren't a significant factor. Setting a free shipping threshold majorly contributed and almost doubled the average order value for Brand X compared to 2019.
This is where consumer behavior psychology comes into play. In 2019 Brand X is running a 20% off deal for all products and free shipping for every single order. The consumer gets their product delivered for free and there are no added costs. Customers mostly purchase a single item because the delivery is free and there are no requirements for them to spend more.
In 2020 Brand X ran a 30% off promotion with free shipping on orders over €70. We see the average order volume double because receiving free shipping is important to customers and they want to qualify.
Setting a shipping threshold not only raises the average order value but by doing that, ultimately generates more revenue.
After the Black Friday promotion was over, we decided to leave the €70 free shipping threshold as an ongoing requirement. If this shipping strategy worked for Brand X, it might work for your brand as well.
I have to admit, we were very excited to analyze these two Black Friday promotions because they finally gave us a clear winning strategy when it came to free shipping. We're hitting two birds with one stone — there is free shipping for the customer and the brand is not cutting into profit to offer it. In fact, profit rises because of the growing order value. If this isn't a win-win scenario, I don't know what is.
If you're involved in ecommerce and have experience with free shipping, don't be shy and share your data.
P.S. We teach teams how to use experiments, prototyping, and customer interviews to drive their product development process. Contact us if you are interested.
P.S.S. Go ahead and share this with your friends who would enjoy our content. Sharing is caring.